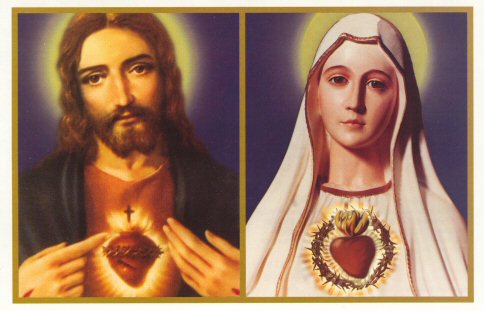 Today's memorial of the Immaculate Heart of Mary follows yesterday's solemnity of the Sacred Heart of Jesus. This is only fitting. In honoring the Scared Heart of Jesus, we honor the God who is love. The image of the Sacred Heart shows a radiant heart surrounded by thorns, topped by a flame and a cross. A drop of blood is falling from it. Each of these reminds us of the different ways Jesus loves us: by his suffering, by his death on the cross, by his gift of the Holy Spirit, by his sharing his life with us. It is an image of his divinity and his humanity.
Jesus was truly God and truly man. In his divinity as the Son of God, he took on a human nature—and that human nature, that human heart, came from Mary.
When he was born, it was Mary's heart he was born with. When he ran through the streets of Nazareth playing with the other children his heart beating fast with excitement, it was Mary's heart beating. When he laid down his life on the cross and the soldier pierced his side with a lance so that blood and water flowed out, it was Mary's heart that was pierced.
Because the incarnation really happened, we honor Mary's Immaculate Heart as the source of Jesus' Sacred Heart in its humanity.